Description
usb 3.1 type c
The USB-C or USB Type-C connector is the newest USB connector on the market. The USB-C connector has a reversible/symmetrical design and can be plugged into any USB-C device using either end. A USB-C cable is capable of carrying USB 3.1, USB 3.0, USB 2.0, and USB 1.1 signals. The USB-C is commonly paired with the USB-A, USB-B, USB Micro-B, and other USB connectors when supporting previous versions of the USB specification.
USB-C can adapte to work with each of these legacy connectors. When connecting two USB 3.1 devices, the USB-C cable will support data transfer rates that are twice the speed of existing USB technology (up to 10Gbit/s), enhanced power delivery of up to 20 volts, 5 amps, and 100 watts for power and charging, and built-in support for DisplayPort video and four channel audio (speaker and microphone).
The image of type c usb connector wholesaler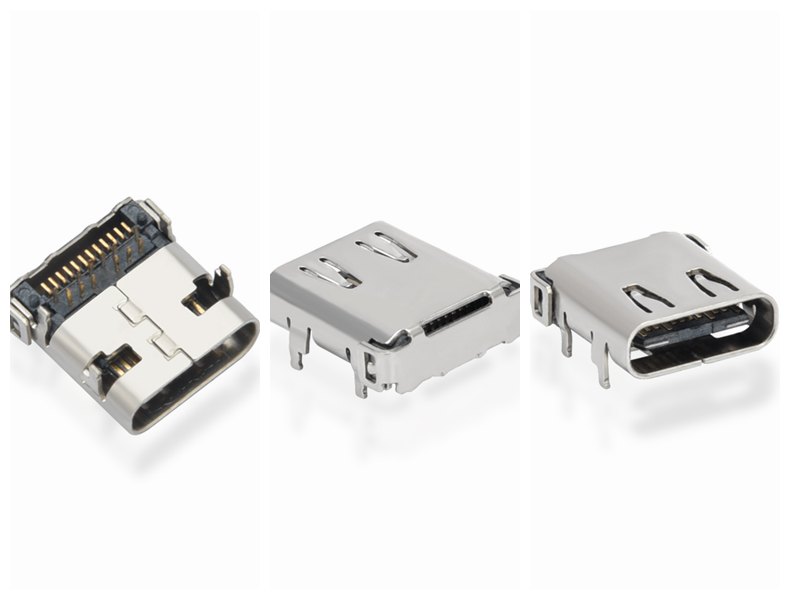 Types of usb
The specification of usb 3.1 type c
| Product name | usb 3.1 type c | Application | pcb |
| --- | --- | --- | --- |
| shell | nickel/gold | Housing Color | White/black |
| contacts | bronze | Delivery | 7-10 workdays |
| Contact Material | Copper Alloy | Packing | Plastic tray |
| Origin | china | Contact current rating | 5A for Vbus pin;1.25A for vconn Pin |
Like the Lightning interfaces of Apple, the front and obverse of the USB Type C interface are the same. This means that no matter how you insert the port are correct. Users need not worry about the issue about the front and obverse which brought by the traditional USB.
Theoretically, the maximum transfer rate of USB-C port is 10Gb per second. But Apple said the new MacBook's USB-C port maximum transfer rate of 5Gbps. The maximum output voltage of 20 volts, can speed up the charging time. The USB-A type, so far limit the transmission rate of 5Gbps, the output voltage of 5 volts.
The new MacBook's USB-C port can transfer data.
Unlike the older USB port.The power transmission of the USB-C port is bidirectional, which means that it can have two ways to send power mode. Therefore, the user can not only charge by mobile device , or other devices can also be used for
Technical Drawing of type c usb connector wholesaler
How to oder
If possible please provide me your drawings and datasheet.
Bulk orders and sample orders are available.
For the private ordering, please provide your samples and drawings.