USB 2.0 / 3.0 /3.0 Connectors
USB plug is hot-swappable , need faster speed to transfer data, so we make USB 3.0 connector , we have all type USB 3.0 connector ,such as USB 3.0 Type A male plug , USB 3.0 Type A male plug short one , USB 3.0 A type female connector for soldering , USB 3.0 B Type ,Micro USB 3.0 connector etc .
the plastic parts is made of PBT materials , Halogen-free, certified by Reach and CA65 certification .
the pins and other metal parts is at least 1U" gold-plated or nickel-plated In addition , all of them pass salt spray test .
the mating cycles can reach 10,000 cycles .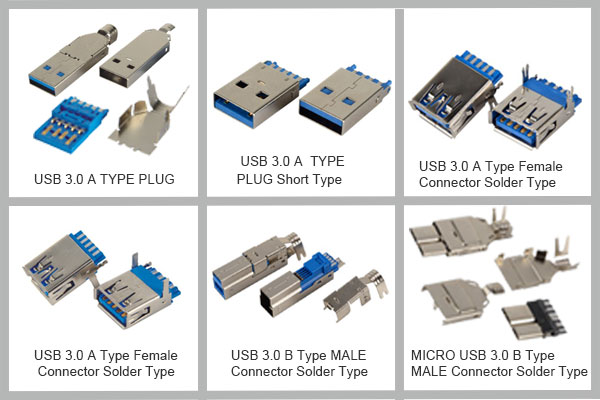 what is usb 2.0?
usb 2.0
USB 2.0 was released in April 2000, adding a higher maximum signaling rate of 480 Mbit/s called High Speed, in addition to the USB 1.x Full Speed signaling rate of 12 Mbit/s. Due to bus access constraints, the effective throughput of the High Speed signaling rate is limited to 35 MB/s or 280 Mbit/s.
The goal of the new serial bus is to broaden the range of external peripherals that can be used on a computer. A hard drive can easily hit the USB 1.1 bottleneck whereas it now becomes more 'usable' under USB 2.0 conditions. For those people who found us via search engines, USB 2.0 should neither be called 'USB2′ nor 'USB 2′.
Further modifications to the USB specification have been made via Engineering Change Notices(ECN). The most important of these ECNs are included into the USB 2.0 specification package available from USB.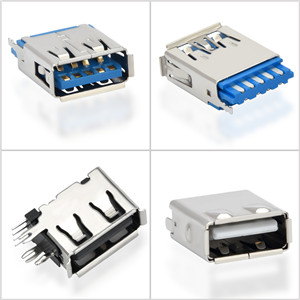 usb 3.0 and usb 2.0 What kind of difference?
usb 3.0 and usb 2.0
usb3.0 transfer rate is ten times USB 2.0, USB 2.0 at a rate of 480 Mbps, while USB 3.0 can reach 4.8 Gbps. Of course, many devices do not need such a high rate, but hard drives and card readers and other equipment requirements for speed or high. Compared with USB 2.0, USB 3.0 will be more energy efficient. In addition, USB 3.0 is backward compatible, support USB 2.0 devices.
USB 3.0 is compatible with a standard, supports common I / O interfaces, and will be optimized to reduce energy consumption, while improving the efficiency of the computer protocol, consumer goods and products in the field of mobile products that support the ability to move fast synchronization that supports both optical and digital component specifications, and with the ease of use and plug and play features traditional USB technology.
Mini USB 3.0 has an interface will be divided into A, B two public ports, while female port will have B and AB are two, from the shape point of view, AB female port compatible A and B are two public ports, at the same time you can see, Version 3.0 is a male 9-pin port pins, while 2.0 is a 5-pin.