how to connect vga cable ?VGA cable is very widely used, the most commonly used is the computer host and the display connector, for computer regulars, this connection is very simple, here is no longer a simple description! Directly see the figure to understand, but it should be noted that many computers on the market with a high-definition VGA interface, so the VGA cable should be inserted in the HD interface above to use!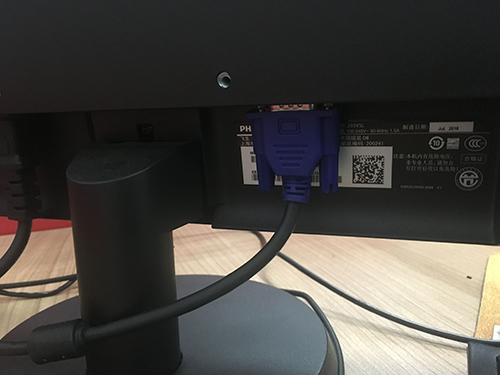 display vga Connector
In addition, the VGA interface is the most commonly used computer with TV screen, square screen, movie screen, LED display and so on, so the connection for the computer and the screen is a lot of friends do not touch, I hope this article can solve your problem!
VFA cable: used to connect with VGA interface, video output input device, this VGA cable is generally male to public interface cable, which is the market's most common VGA cable.
Here to show you how to connect VGA cable ?
With any one end of the VGA cable into the notebook's VGA output interface, the other end into the TV's VGA input interface, the connection is complete.
Turn on the TV and set the video source: Press the power button on the home socket to turn on the TV, and the TV displays "No signal please check the input". It does not matter, then press the TV remote control above the TV / AV button to select the TV signal output mode. Use the upper and lower buttons on the TV remote control to select VGA Click OK to enter the VGA signal output mode
Turn on the notebook: Press the power button on the notebook to start the computer. This time you can already see the TV on the screen display the screen.
Small science: After the above steps you will find the laptop screen seems to be a little narrow, and the TV is the normal picture covered the entire screen. This is because the notebook and the TV screen size and use a different resolution caused by the different. So what is the resolution? The resolution is "how many pixels are contained in a unit's specified length" is the higher the resolution, the better the image quality.
Computer settings: Find out what is the resolution to set up the resolution of the computer! First, right-click the computer desktop blank, and then select the "screen resolution" option, a dialog box appears. Click the "Resolution" option to select 1366 * 768 is the highest one. Then click the "OK" button. The dialog box appears and click "Keep Changes",So that the notebook and TV screen are covered with the entire screen. So that your operation on the computer will automatically synchronize the display to the TV above, whether it is used to watch TV or teaching are super cool!